Nel 2006 un noto brand di printer pubblicizzava sulle riviste IT una nuova gamma di stampati a colori. Immagini giuste, slogan giusto ma…………tutto in bianco e nero. Può il bianco e nero creare la sensazione nella testa del lettore di un prodotto il cui punto di forza sono stampe a colori nitidi?? Una […]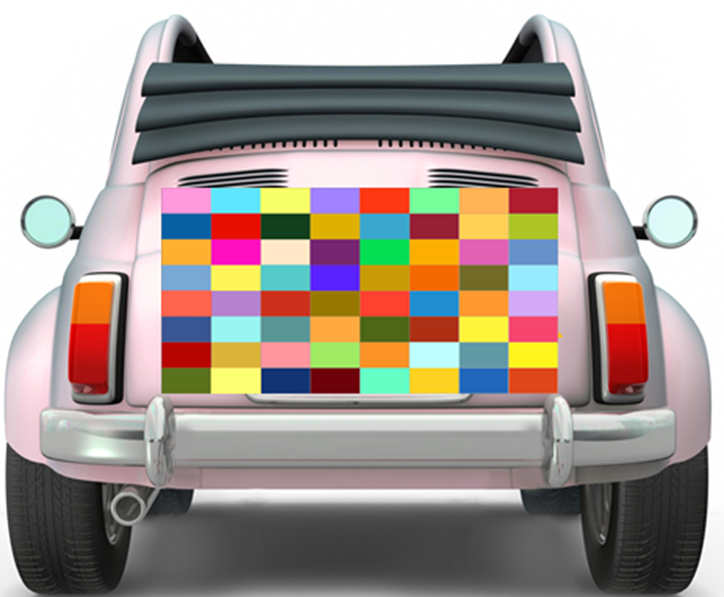 Nel 2006 un noto brand di printer pubblicizzava sulle riviste IT una nuova gamma di stampati a colori.
Immagini giuste, slogan giusto ma…………tutto in bianco e nero.
Può il bianco e nero creare la sensazione nella testa del lettore di un prodotto il cui punto di forza sono stampe a colori nitidi??
Una ricerca condotta da Xerox Corporation and International Communications indica che le persone:
92% = Believe color presents an image of impressive quality.
90% = Believe color can assist in attracting new customers.
90% = Believe customers remember ads better when color is used.
81% = Believe color gives them a competitive edge.
Perchè i colori sono così importanti?

I colori hanno un ruolo fondamentale nelle associazioni inconsce che tutti noi facciamo difronte ad una comunicazione o ad un prodotto.
Durante la nostra vita accumuliamo infatti una serie di associazioni elementari tra cose/situazioni e colori. A quel determinato colore "X" per la mente dei Tuoi Clienti corrisponde quindi un elemento che genera delle sensazioni specifiche.
Quindi se vuoi guidare le loro scelte e le loro azioni non devi sbagliare i colori.
Qualche esempio?
Per comunicare un notebook caratterizzato da un'elevata potenza, usare il blu o il verde nelle comunicazioni crea sensazioni di tranquillità, serietà e purezza. Sono queste le sensazioni che vuoi suscitare?
Per sottolineare le caratteristiche di ecocompatibilità di una stampante, usare il viola comunica creatività.
Eppure nella Tua comunicazione esteticamente stava bene proprio il viola! Vero, ma l'estetica e l'induzione delle azioni dei Clienti non sono la stessa cosa…vuoi comunicazioni belle come quadri o comunicazioni efficaci?
Una call to action ("Clicca qui"; "Scoprilo ora", "Scarica la presentazione", etc) in una landing page richiede solitamente l'utilizzo di un bel tasto visibile

verde

. Lo so, spesso sembra una forzatura che stona con l'equilibrio cromatico della pagina, però è proprio perchè attira l'attenzione che fa agire. Ed il verde è il colore che porta a cliccare.
Se poi la call to action è legata ad una promozione legata a quantità o tempo della validità dell'offerta limitati, la scelta è giusta è il rosso.


Rosso

come urgenza e attenzione.
Anche il numero di colori scelti per le Tue comunicazioni è fondamentale per l'efficacia. In generale massimo 3. Per gli elementi che non devono attirare l'occhio, ma che devono essere presenti per la validità di ciò che comunichi, usa le tonalità di grigio.
Attenzioni banali forse, ma che fanno la differenza nel portare i Tuoi Clienti all'azione.
Eccoti quindi una carrellata di colori e associazioni relative tratte da un interessante Post di Debbie Laskeys:
BLUE
The color of blue relays integrity, responsibility, intelligence, reliability, truth, and honesty. Light hues of blue convey peace, softness, and healing. Dark hues of blue convey stability, security, and expertise. Blue often communicates feelings of respect, honesty, and confidence. Some well-known logos featuring blue include: IBM, Ford, Citibank, VISA, Tiffany, Skype, General Motors, jetBlue, Intel, Hewlett-Packard, Walmart, Nokia, Facebook, Twitter, and BlueCross/BlueShield.
GREEN
The color of green brings to mind environment, growth, re-birth, spring, and luck. Green often communicates feelings of relaxation, renewal, revival, freshness, and optimism. Some well-known logos featuring green include: Garnier Fructis hair care products, American Express, Starbucks, Green Giant vegetables, Whole Foods Market, Subway, Aer Lingus, L.L. Bean, Tropicana Orange Juice, and National Car Rental.
RED
The color of red brings to mind love, action, courage, determination and can also represent danger. Red often communicates feelings of boldness, passion, energy – and grabs attention. Some well-known logos featuring red include: Coca-Cola, Red Cross, Bank of America, Target, Verizon, Toyota, YouTube, McAfee, Marriott Hotels, Boston Red Sox, Cincinnati Reds, Lego, and Levi's.
PURPLE
The color of purple brings to mind royalty, luxury, magic, mysticism, and inspiration. Purple often communicates feelings of luxury, spirituality, and authority. Some well-known logos featuring purple include: Yahoo!, FedEx, FedEx Ground, Los Angeles Lakers, WeddingChannel.com, Cadbury Chocolates, and Hawaiian Airlines.
PINK
The color of pink brings to mind youthful exuberance, fun, excitement. Pink often communicates feelings of vibrancy and friendship. Some well-known logos featuring pink include: Victoria's Secret, Flirt dresses by Maggie Sottero, Pepto-Bismol, Susan G. Komen Race for the Cure, and Mary Kay Cosmetics.
ORANGE
The color of orange brings to mind heat, competition, and productivity. Orange often communicates feelings of strength, determination, vitality, and energy. Some well-known logos featuring orange include: Simply Orange Juice Company, Nickelodeon, Harley-Davidson Motorcycles, Mozilla Firefox Internet browser, Amazon.com, Reese's Peanut Butter Cups, Tide laundry detergent, and The Home Depot.
YELLOW
The color of yellow brings to mind energy, sunshine, warmth, light, happiness, creativity, vision, and warning. Yellow often communicates feelings of creativity, optimism, warmth, vision, and happiness. Some well-known logos featuring yellow include: Hertz, Goodyear tires, Pennzoil, National Geographic, Ikea, Best Buy, Ferrari, Shell Oil, Yellow Pages, McDonald's, Subway, Denny's Restaurants, and In-N-Out Burger – as well as thousands of taxi cabs on streets throughout New York City. Since the eye sees yellow before any other color, there is no question why those cabs are yellow.
BROWN
The color of brown brings to mind rustic, earthy, and warm. Brown often communicates feelings of romanticism and durability. Some well-known logos featuring brown include: UPS, Gloria Jean's Coffees, and Louis Vuitton handbags/attire/jewelry.
BLACK
Black brings to mind expensive products and has been known as "the absence of color" or "all colors." It communicates feelings of power, drama, and sophistication.
WHITE (  (bianco)
White brings to mind simplicity, cleanliness, and purity – and often catches the eye when it is used to highlight words or image outlines. It is used in hospitals and for health-related items and also for bridal gowns.
Che ne pensi?
Come influenzano i colori le Tue comunicazioni?
- Ultima modifica:
2011-09-15T09:58:49+00:00
da